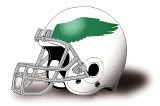 #9: PHILADELPHIA EAGLES
PERTINENT DATA: 8-8 last year; 20 to 1 odds to win the Super Bowl this year.
ALL-TIME GREAT: As a young 'un, I was partial to Harold Carmichael and his pass reception excellence. In fact, to this day, I do not lump the Eagles into the same divisional hatred roles that I do the Cowboys and Giants.
TEAM HOSS: Brian Westbrook is the man, and everybody knows it. And being their receiver corps is still unproven and not as good as hyped, he'll still be carrying the heaviest load in the NFL. Donovan McNabb is a great quarterback, but he doesn't allow himself to run like he used to, probably out of self-preservation, so if the Eagles are to be moving the ball, it's gonna be cradled inside of Westbrook's arms to do it.
ALL-TIME SUCK ASS: When he played, I hated Randall Cunningham so deeply that I still can't stand him. When he first hit the league and the whole running QB thing wasn't so widely used, it was so fucking frustrating to have a normal defense, pocket collapses, and normally the QB would fall into someone's arms. But no, fucking Cunningham would scamper through a crack for 20 yards. He was a pioneer, and because of that, I have always detested his high top faded ass.
TEAM ASS: Perhaps it's because the Redskins have had a steady stream of shit quarterbacks the past decade-plus, but I hate the Eagles secondary, as a unit, and with a passion. Assante Samuel joining the mix makes me hate them even more. But if I have to pick one asshole from that secondary to hate the most, I guess I'd go with Lito Sheppard, with Brian Dawkins a close second. Sheppard just strikes me as one of those guys, that with no real visible reason, you should just never trust. He's probably fucking McNabb's wife.
TEAM TRENDSETTER: This team will continue to live and die with Andy Reid. He has ridden a good QB far to be considered the NFL's pre-eminent coach who has not won a Super Bowl (which used to be Bill Cowher's gig forever), and even without McNabb at times, the Eagles have done well. Basically, if Reid can develop a young QB and his crackhead sons don't distract him too much, he will keep the team rolling, most likely. But if there is no first-tier QB on the horizon (I don't trust that Kevin Kolb bullshit) and his sons get out of jail and go back to fucking up their lives in a very public manner, I'm sure ol' Andy will have to hang it up before the Bill Walsh coaching illuminati decide to let him get a Lombardi Trophy to justify his alleged genius.
SENIOR PLAYER: Donovan McNabb was a first round draft pick all the way back in 1999, when gas was cheap and the Twin Towers was still an acceptable term for a basketball team with two prominent centers.
THE RUDY: Save Rocca is not only an undrafted guy who is the team's punter now, but he came from Australian Rules football. That shit comes on my digital PBS station on Monday nights, and I still have no fucking idea how they score.
FORMER HURRICANE: Defensive end Jerome McDougle has not lived up to even half his potential. He's no longer a starter, and honestly, may get cut this weekend, considering his salary.
VIRGINIA BOY: Linebacker Akeem Jordan came from an hour away from where I live, at James Madison University, where they won a I-AA title while he was there. I should really take the kids to see a college football game there, as the I-AA environment is nicer than stupid UVA, where even though they've never really been that good the past fifty years or so, everybody expects them to win titles. And UVA fratboys puke right by your kids at their games.
WILD SAMOAN: Back-up linebacker Pago Togafau, who went to Idaho State. I would wager that most Samoans in Idaho are there because of football scholarships.
THE ICKY: Montae Reagor is a great name because it sounds like you threw in the names of five or six Presidential candidates from the '80s, swirled it around, and made his name. It makes him sound regal, like he'd drive a '72 Lincoln Continental painted gold.
INDUSTRIAL OVERLORD: Max Jean-Gilles, descendant of fur traders who parlayed family wealth into a majority stake in some bullshit dotcom scam.
FANTASY JERSEY: I would proudly wear one of those old school lighter green #5 McNabb jerseys. Most of my family's friends are families of earth hippies or stoner rockers or artphags - pretty much most brands of hipster dumbasses who have moved beyond the obvious overall dumbass genre into more specialized fields. So most of these people do not respect sports, so most of the kids have no idea about football. Except this one kid Ian, who is like 11, loves all the major sports and rap music. He's a good kid, and being I only have daughters, I think of him as my half-son. He is a fan of all Philadelphia teams (except he went to the Nuggets when AI got traded), and McNabb is his absolute favorite player ever. I actually painted two walls in his bedroom Eagles dark green. I tried to convince him to go old school green, but kids these days, they don't respect the old school.
#10: NEW ORLEANS SAINTS
PERTINENT DATA: 7-9 last year; 24 to 1 odds to win the Super Bowl this year.
ALL-TIME GREAT: Lawrence Taylor is more respected by history, but Rickey Jackson was the scariest fucking linebacker I remember from watching football when I was a kid. He had that mad dog bug-eyes-from-deeply-embedded-anger black man thing down pat. Yet, when you'd hear interviews with him, he was a nice guy. I always assume guys like that must have been molested or some shit to channel such intensity but be a solid dude, although I guess Laverneus Coles was molested, and he's not really that intense. Maybe Jackson was just beaten a lot, and molestation makes you more of a crafty scared type better at running precise routes to avoid conflict.
TEAM HOSS: Deuce McAllister is the man. Played college ball at Ole Miss, so he is the King of the Bayou I would assume. Houston rappers used to call 26-inch rims Deuce McAllisters, that's how awesome he is.
ALL-TIME SUCK ASS: Joe Horn is an obsolete memory now, so his cellphone in the goalpost antics get lost on the world. But Joe Horn was a first class asshole, fucking his teammate's wife, and I'm sure much worse if that was what got out. Rickey Jackson would've kicked his ass.
TEAM ASS: I was set to put Martin Grammatica in this spot, until the Saints made the move for Jeremy Shockey. Shockey looks like Barney Rubble with a Fabio wig, and overvalues his importance so much, it takes away from everywhere else. He's a better blocker than you'd expect from such a primadonna, and he's a punisher to be sure, looking for contact sometimes. But he bitches and moans so much, you have to wonder how the Shockey and Reggie Bush blue-chip primadonna faction will fare with the Deuce McAllister and Marques Colston hard-working but half-silent set.
TEAM TRENDSETTER: Reggie Bush is supposed to be the greatest threat to ever play the past two years - basically he's supposed to be a better Devin Hester than Devin Hester is. But we haven't really seen it yet. His marriage to Kim Kardashian seems suspect. I saw one episode of that Kardashians show, and that chick's ass was retarded looking. And I love big asses. But her shit was disproportionate, almost like an SNL sketch rather than something sexy to want to stuff my dick in. Seems like your standard trophy wife to me for Bush, a piece of pussy bling to flash at everybody. Somebody that concerned with superficial appearances ain't gonna be a tough ass RB in the NFL. But whether he's able to be a superior Devin Hester, or at the least a second-rate Brian Westbrook, is going to decide the Saints fate.
SENIOR PLAYER: Longsnapper Kevin Houser was a seventh round draft pick in 2000.
THE RUDY: Massive RB injuries last year allowed Pierre Thomas to go from undrafted kid out of Illinois to a contributing member of the offense.
FORMER HURRICANE: Hey look, it's another high-profile Hurricane guy not living up to expectations, this time in the form of linebacker Jonathan Vilma.
VIRGINIA BOY: Guard Matt Lehr came from Virginia Tech, who is known most on offense for it's big ham-fed country boys on the line, if you discount Michael Vick's fame.
WILD SAMOAN: In lieu of Samoans on the roster, I'll pick cornerback Usama Young, because Usama is a terrible name to be stuck with nowadays. Led the team in special teams tackles last year.
THE ICKY: Jermon Bushrod is one of the better names in the NFL today.
INDUSTRIAL OVERLORD: Back-up QB Tyler Palko, shipping magnate. Other back-up QB T.C. Ostrander got cut, but he probably would've been my choice were he still on the team.
FANTASY JERSEY: A black #26 customized to say DEUCE.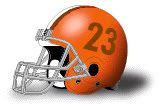 #11: CLEVELAND BROWNS
PERTINENT DATA: 10-6 last year; 25 to 1 odds to win the Super Bowl this year.
ALL-TIME GREAT: Ozzie Newsome was the best tight end when I was coming up watching the televisions play foozballs on Sundays. Plus, back then, dudes named Ozzie were bonafide as fuck. So he holds a retarded spot of gold inside my decrepit heart.
TEAM HOSS: Since he's not on the Patriots anymore, I can easily say, even with my contrarian nature, that Willie McGinest is the fucking man. I remember being a young stupid whiteboy rap fan back in the day, looking at The Source, when those first all-leather NFL jerseys came out, and I really wanted a Willie McGinest. Looking back, what the fuck were people thinking, making all-leather jerseys? I'm sure it looked pimp, but that must've been uncomfortable as fuck. And heavy.
ALL-TIME SUCK ASS: I've liked him as a Redskins coach, and he seems solid, but it's hard not to pick Earnest Byner for all the heart ache he caused true Browns fans in the past. Him and John Elways, those are the two faces etched into the sub-conscious of long-time Browns fans caught up on this new bandwagon of wild card contention.
TEAM ASS: I don't care how many of his children have survived eyeball cancers, Joe Jurevicius is an unlikeable white asshole wide receiver, along the lines of a Steve Largent. I'm sure he's already planning his post-NFL political career.
TEAM TRENDSETTER: Brady Quinn, either the NFL's next Tom Brady or the NFL's next Ryan Leaf. I kind of hope he ends up sucking, so they are stuck with the Brady Quinn/Kellen Winslow connection in Cleveland as so full of potential yet so full of shit. Not because I hate Cleveland, but just because I like when things like that happen to other teams.
SENIOR PLAYER: Kicker Phil Dawson came over as a free agent in 1999.
THE RUDY: Kick returner Joshua Cribbs was the Browns Devin Hester impersonator last year, and I believe he was actually a cornerback out of college, but now is listed as a back-up wide receiver.
FORMER HURRICANE: Not only do the Browns have the Soldier Kellen Winslow, they are also one of the few teams to actually have a Miami QB in Ken Dorsey, who supposedly is transitioning to a partial coaching role, as a mentor for the young QBs ahead of him on the depth chart.
VIRGINIA BOY: Former Virginia Tech Hokie Nick Sorensen earns a check as back-up safety, but makes his mark like a lot of former Hokies, as a special teams star.
WILD SAMOAN: Defensive end Melila Purcell, Hawaii alum. Wait, they have a tight end named Kolo Kapanui. I pick him instead.
THE ICKY: Shantee Orr, linebacker, part-Cherokee I'm sure, like half the fucking people I know who either don't want to be as white as they look like they are or to justify their light-skin black ass complexion with something other than "some white guy raped my great grandmother back during slavery".
INDUSTRIAL OVERLORD: I was very sad when the Browns cut LeCharles Bentley, because he had the best industrial overlord-sounding name in the NFL. But being he is gone, Chase Pittman, back-up defensive end takes this spot.
FANTASY JERSEY: Dark brown (I'm assuming their black-looking jerseys are actually just really dark brown) #17 SIPE, just because I had like 19 Brian Sipe football cards for some reason when I was a kid. I didn't go out of my way for it, it just ended up that way.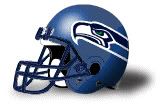 #12: SEATTLE SEAHAWKS
PERTINENT DATA: 10-6 last season last year, NFC West champions, beat the Redskins in the wild card round, then lost at Green Bay in the divisional round; 25 to 1 odds to win the Super Bowl this year.
ALL-TIME GREAT: Being he is now the head coach of the Redskins, it is obvious that Jim Zorn was the greatest Seahawk to ever wear those butt ass ugly uniforms. I saw a Seattle Seahawks 1979 commemorative drinking glass at an antique store a month or so ago, and almost dropped the $12 for it just because Zorn's face was all over it. Then I came to my senses.
TEAM HOSS: Tackle Walter Jones is 325 pounds of Pro Bowl man. I also have a hard time not liking back-up guard Floyd Womack, but that's because his nickname is Pork Chop, and I am a sucker for giant black dudes nicknamed after pig foods.
ALL-TIME SUCK ASS: Normally I would just say Shaun Alexander, because that guy was the softest overrated RB ever. But for some reason he's not playing anywhere this year, even though he was NFL MVP a couple of season ago. And I have made fun of Alexander in the past for being potentially a homosexual. But that would suck if he actually was a homosexual and no other team would sign him because everybody knows it. I mean, I use homosexuality as disparaging towards another man's toughness, but I would never wish ill on them. And I don't want to get my ass kicked by a pack of methed out biker gays either. So out of respect for the rainbow flag, Alexander is okay in my book, and the man to hate is former wide receiver and current Republican Steve Largent. He fucking sucks and is the reason this country is doomed, not gay marriages. Also, why the fuck did he get into the Hall of Fame so quickly, but bitch ass reporters dragged their feet on Art Monk, even though Art Monk was a better Steve Largent than Largent was? Racism, that's why.
TEAM ASS: Julius Jones is a southwestern Virginia boy, his folks worked in the coal mines even, so you'd think I'd give him emotional daps. But he went to college at Notre Dame, which was one strike, then played pro for the Dallas Cowboys, which was two strikes. And I don't play three strikes, so fuck him. I'm glad he's all the way across the country, fucking traitor.
TEAM TRENDSETTER: Lofa Tatupu just signed a ridiculous contract, after kicking ass way above his expectations throughout his rookie contract. Whether the fat contract keeps him motivated or he becomes fat himself, and lazy and less intense, is going to steer the Seahawks future, especially as their meager offense becomes another year older. They will be a defense-first team as soon as Holmgren packs his office up this coming offseason.
SENIOR PLAYER: Walter Jones was a first round pick in 1997, back when Florida State still had high profile players.
THE RUDY: Cornerback Jordan Babineaux was undrafted out of Southern Arkansas in 2004, and is their very active third cornerback.
FORMER HURRICANE: Cornerback Kelly Jennings, looking to live up to expectations. But if other Hurricanes players I've listed in this spot for other teams are any indication, he won't.
VIRGINIA BOY: Defensive end Patrick Kerney is a UVA graduate, and a tall, lanky, annoying fucker who is able to lead the league in sacks if he can keep his aging ass healthy enough.
WILD SAMOAN: Lofa Tatupu, who is one of the more impressive Polynesians in the whole NFLs.
THE ICKY: With Mack Strong's retirement last season, this spot has been opened up. Mack Strong is the best NFL name of the past decade, and if I was a wealthy Jewish guy who engineered rap groups, and I signed a duo, I would force them to change their names to Mack Strong and Art Monk. But with him gone, I'll go with Red Bryant, a rookie defensive lineman from Texas A&M, who has Seahawks connections since he's gonna marry the daughter of Jacob Green, who was like the only good defensive player Seattle had for about fifteen years there.
INDUSTRIAL OVERLORD: Ryan Plackemeier, NFL punter or Microsoft stockholder?
FANTASY JERSEY: A throwback grey Mack Strong jersey, but personalized to have his whole name spelled out on the back. I might even change the number to #69, because I was public school educated in the rural south, so that number is funny to me.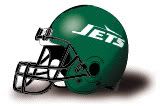 #13: NEW YORK JETS
PERTINENT DATA: 4-12 last year; 25 to 1 odds to win the Super Bowl this year.
ALL-TIME GREAT: Hard to argue with Mark Gastineau. He had the white underclass haircut, did his sack dance, and was a shitty boxer there for a while. I'm sure since that time he has dabbled in at least half of the following things: MMA, statutory rape, restoring a classic Corvette, co-owning a pizza parlor, karaoke DJing, and amateur porn.
TEAM HOSS: Alan Faneca just walking through the locker room door makes them tougher than they've been in forever. He's just as big an addition as Favre was, and both of them will be done after this year or next.
ALL-TIME SUCK ASS: Although he did some good PR with me personally trying to drunkenly smooch Suzy Kolber along the sidelines that one time, I've still never thought much of Joe Namath, probably because he was in all those underwear ads in my dad's stack of Penthouses from the '70s. When I am hitting puberty and discovering full-color naked ass hot bitches, seeing some hooknosed dude in his jockeys is not cool
TEAM ASS: I don't care how well he does, and what an ol' gunslinger he is, Brett Favre exposed himself as a fucking primadonna fuckface this year, texting reporters like a middle school girl about everything going on in his "OMG, guess what Ted & Mike did?" saga. Thank god that bullshit is over.
TEAM TRENDSETTER: It's cheap to pick the coach, but Eric Mangini was the Man-genius two years ago, and a piece of trash last year. But they threw a bunch of high-priced free agents at his ass, and whether he can be a genius or not will decide the Jets future. Shit, him managing Favre's ego is just as important. How do you develop the next QB with Favre there, to keep yourself set? Favre's already ruined Aaron Rodgers in Green Bay, regardless of how good he turns out, but I don't think Erik Ainge is the future of the Jets QB position either. What will the Man-genius do?
SENIOR PLAYER: Defensive end Shaun Ellis was a first round pick in 2000.
THE RUDY: Starting guard Brandon Moore has been solidly contributing for six seasons, and was undrafted.
FORMER HURRICANE: Bubba Franks was probably the happiest fucker in town when Brett Favre joined the Jets. He's the senior NFL U of M tight end, probably in one of his last runs as he gets thick stacks of cash to play second string.
VIRGINIA BOY: D'Brickashaw Ferguson is a monster, formerly from University of Virginia, and even though NYC fans are hard on everybody and claim he ain't shit, he will come through. Or he'll go somewhere and then they'll regret that shit. Sometimes, teams are more likely to lose good players than have them succeed, and the Jets seem like that type of vulnerable to agonizing irony type franchise.
WILD SAMOAN: Defensive tackle Sione Pouha, out of Utah, perhaps another fucking Mormon Samoan.
THE ICKY: Jerricho Cotchery is a wonderful name, sounding part-biblical and part-old and persnickety.
INDUSTRIAL OVERLORD: Kellen Clemens, newspaper tycoon, using his collective editorial departments to help paint negative pictures of certain countries, thus justifying strategic invasions in the minds of the masses.
FANTASY JERSEY: A green with white sleeves #81 MONK for Art Monk motherfuckers. He never should've played there, but he did.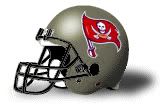 #14: TAMPA BAY BUCCANEERS
PERTINENT DATA: 9-7 last year, NFC South champs, lost to the Giants at home in the wild card round of the playoffs; 30 to 1 odds to win the Super Bowl this year.
ALL-TIME GREAT: There has been no greater Tampa Bay Buccaneer, during the era of both jerseys, than Warren Sapp. He was a giant, goofy black dude, who in all likelihood smokes more weed than Marley, and somehow rambled his giant body into backfields on the regular. It is a both a shame as well as a mark against Jon Gruden that Sapp finished his career elsewhere.
TEAM HOSS: Warrick Dunn is a tiny little doe-eyed black dude, but it's hard not to like the guy. He fucking buys houses for single moms. And he hasn't fretted over a backing role in the NFL, after being a high-profile star at one point.
ALL-TIME SUCK ASS: Steve Young bitched and moaned his way out of Tampa Bay, then bitched and moaned his way into replacing Joe Montana. Steve Young is a bitch. Don't let the fact he sits next to people more obnoxiously white and assholish than him on the CBS pregame fool you.
TEAM ASS: Brian Griese has been a pretty useless human being most of his life. I guess it's easier for him in Florida where his dad probably still gets crazy props though.
TEAM TRENDSETTER: Fuck, I'm getting lazy, because I'm picking the coach again, in Jon Gruden. Again, we have a supposed genius whose geniusality has been questioned by incompetent seasons. They did well last year, but only as the by-default kings of the NFC South, where the Panthers and Saints played far below expectations. And Gruden's defense is getting even older and older, which was what carried him.
SENIOR PLAYER: Linebacker Derrick Brooks was a first round pick in 1995.
THE RUDY: Earnest Graham was undrafted out of Florida in 2003, and after last year, earned starter's stripes in the NFL. I actually had this fucker on my fantasy team as a pick-up player, and he was pretty good to me.
FORMER HURRICANE: Cornerback Phillip Buchanon, former Hurricane, former Raider, and chronic underachiever.
VIRGINIA BOY: Ronde Barber is a local legend at UVA. Tiki has been able to come back through and drum up recruiting and charity support being he's retired, but locally, Ronde is just as beloved. They both such cute and unscary black boys, ain't they?
WILD SAMOAN: Without a Samoan, I'll go with tackle Jeremy Trueblood, because that sounds like he might be an Indian (drinking kind not dancing shiva kind), and indigenous types need to stick together, to counteract the white man's poisonous religion and capitalism.
THE ICKY: Reserve safety Sabby Piscitelli sounds like he might've ran with the Gottis back in the day.
INDUSTRIAL OVERLORD: Andrew Economos, long snapper and Greek multi-billionaire, shipping Russian whores in freight containers to America for circulation amongst high-priced escort services.
FANTASY JERSEY: Old ugly orange (still better looking than the red and shit brown colors of now) #99 SAPP.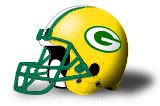 #15: GREEN BAY PACKERS
PERTINENT DATA: 13-3 last year, NFC North champs, beat the Seahawks in the divisional round, then lost to the Giants at home in the NFC Championship game; 35 to 1 odds to win the Super Bowl this year.
ALL-TIME GREAT: When I was a kid collecting football cards, the card for one Packers linebacker actually said Mike "Mad Dog" Douglas, with the nickname on the card. He seemed quite the bad ass. And even though nowadays we have the googles to prove such false claims wrong, and you'd find out Charles Martin was the guy who pretty much body slammed Jim McMahon to the turf, I like to remember it as the Mad Dog doing it, McMahon being crippled and never recovering and never playing football again, and that's why the Bears never won more than that one Super Bowl with that team.
TEAM HOSS: I am a fan of the dreadlocked cornerbacks whose name is unseen underneath their locks, so Al Harris is my man on the Packers. It's really a shame they couldn't keep Mike McKenzie too though.
ALL-TIME SUCK ASS: Brett Favre, because even though he did good, he sabotaged this team completely this year, ruining the team for the fans. He's like a divorced wife who talks to all the couple's friends about how the husband would beat her sometimes, even though he never really beat her. Then about half the friends don't really want to be friends with the husband anymore, which is how I bet a bunch of Packers fans feel now. Favre ruined the team for them, with his pussyfied posturing. On top of this, what the fuck? People act like he won 19 Super Bowls in a row. I could be wrong but haven't they only been to like two Super Bowls with him, and only won one of them?
TEAM ASS: Actually, I had trouble finding an active player I actively hated, so I'm putting A.J. Hawk here, just because Ohio State fans are fucking cocksuckers, so it shines a bad light on Hawk, who seems to be a pretty good punisher at outside linebacker.
TEAM TRENDSETTER: Ted Thompson by default now that Favre is gone, though Favre did all he could to fuck things up on his way out. I bet he was deleting solitaire programs on computers and shit. So T-double has made his choices and will have to live with it now, and he's got a great variety of young impact players, but Aaron Rodgers stumbles, so goes Thompson, which doesn't seem really fair, but hey, it's foozball.
SENIOR PLAYER: Wide receiver Donald Driver was a seventh round pick out of Alcorn State in 1999.
THE RUDY: Cullen Jenkins, undrafted out of Central Michigan in 2003, now an NFL starting defensive end on an up-and-coming defense.
FORMER HURRICANE: No former Canes, and the only former Trojan got cut, so let's just say linebacker Brandon Chillar since he played at UCLA, which means he probably meant to play at USC.
VIRGINIA BOY: Safety Aaron Rouse, out of Virginia Tech, is in his second year and working his way towards being a starter.
WILD SAMOAN: No Samoans, so we switch to African, with Kabeer Gbaja-Biamilia, or KGB.
THE ICKY: Starting safety Atari Bigby, a true child of the '80s. Has a younger brother named Tecmo.
INDUSTRIAL OVERLORD: Kicker Mason Crosby, dairy overlord, owner of 250 million heads of cattle and five thousand souls of illegal Mexican laborers.
FANTASY JERSEY: A home green #89 CHMURA jersey, because I dig his philosophy on child care.
#16: CHICAGO BEARS
PERTINENT DATA: 7-9 last year; 35 to 1 odds to win the Super Bowl this year.
ALL-TIME GREAT: William "the Refrigerator" Perry is my favorite style of giant black guy - gaptoothed and country as fuck and always laughing. He actually has a line of hunting products now. The black redneck is a sub-culture of black dudes not often seen by mainstream society because of rap music's heavy influence, but the black redneck is alive and strong. Shit, it's almost hunting season, and it's funny as fuck to go to the country store and see like 50 black dudes in camo and blaze orange hats holding rifles in gravel parking lots together. Huey Newton would flip out with excitement, except they ain't doing shit but getting some bologna burgers before hitting the woods to score some bucks.
TEAM HOSS: Do they really have a notable player that's not Devin Hester? He is their offense. Like my man Mavpa says, they should just figure out an offense where they punt the ball backwards to him.
ALL-TIME SUCK ASS: I never liked Walter Payton. I know he's supposed to be this great humanitarian (or they just named the award after him because of cancer) or whatever, but I refuse to believe any short jheri curled guy with blinding bright eyes who had mad attitude to refuse to stay down as opposing players got up off him, so he'd jump up like a little asshole, did anything in the '80s other than lots of cocaine and fucked lots of white women who looked like Bo Derek. I can't get behind that. Maybe I'm subliminally racist, I don't know, but I just can't get behind that.
TEAM ASS: It would be easy to say Rex Grossman, but he can't help the fact he sucks. Brian Urlacher however, is a fucking douchebag, and I don't even like using that word but I don't know how else to put it. Why would you have a cop haircut and beady eyes like that unless you were a fucking douchebag? He looks like a state trooper, running all over, basically playing safety but closer to the line of scrimmage, and everybody acts like he's the shit. He ain't shit whenever the defensive line doesn't enable him to do his mad dog roaming schtick though.
TEAM TRENDSETTER: Jerry Angelo is the type of general manager that makes me feel comfortable with the shitty personnel decisions of the Washington Redskins. I mean, he was the only NFL GM not paying attention enough that we could dump Adam Archuleta off on him, and then he even topped that by signing Brandon Lloyd this year, who caught like two passes in three years in Washington. With all this being true, I fully expect Dan Snyder to sign Jerry Angelo away from Chicago in a couple of years, to run player acquisition for the Redskins.
SENIOR PLAYER: Center Olin Kreutz, third round pick out of Washington in 1998.
THE RUDY: Special teamser/third receiver Rashied Davis was undrafted in 2005 out of San Jose State.
FORMER HURRICANE: Tight end Greg Olsen is supposed to be the new Jeremy Shockey/Kellen Winslow, speedy and a gamebreaker at tight end. This is the year for him to start proving it, although I guess having a pair of retarded gimps battling to be starting QB might hinder his development.
VIRGINIA BOY: Back-up offensive line plug-in John St. Clair, former UVA Cavalier.
WILD SAMOAN: Reserve defensive tackle Matt Toenaina, who made a splash late last season when half the starters were disabled. I have found in my personal experiences that most Samoan dudes named Matt or John or Chris or something boring and anglo like that usually are nicknamed Sumo.
THE ICKY: Lousaka Polite, back-up running back. I think I heard his name mentioned on a game once, and the last name isn't even pronounced like the english word, but with every vowel accented all French-like. I might've made that up though. Sometimes I dream dumb shit like that and take it for truth because it seems too retarded and random a dream to have actually dreamt. Why would I dream a snippet of commentary from a football game? Then again, why would I dream a sex scene with a married cherry tree (her vagina was in a hole in her trunk, and I was chewing cherries off her branches) while her pilliated woodpecker husband was pecking at the window trying to get in?
INDUSTRIAL OVERLORD: Hunter Hillenmeyer is the most industrious overlord-like in the NFL right now. I imagine he eats babies, donates Democratic, votes Republican, and stacks gold coins in his dungeon like Scrooge McDuck.
FANTASY JERSEY: Black #50 SINGLETARY, because he kicked ass. I might get SAMURAI put on it instead, because I just saw inside the wikipedias that was his nickname, though I have never in my life heard that before.