So yeah, I figured it's been almost a month so maybe we could revisit the worst college football teams of 2008, thus far, as determined by my simple standards of least amount of wins, with average margin of crushing being the tiebreaker. I have scoured all four ranks of NCAA play, as well as the NAIA, and here is your sour clumps at the top (as opposed to cream)...
#1: Lincoln University Lions
(0-8, 45.625 average margin of defeat) - This is the first year of Lincoln reinstituting football as a Division II member of the CIAA (all-black, all-strong) conference. It has not gone well. Last week, they lost to Virginia State, 54 to 0, and the week before lost a long ass road game to Arkansas-Pine Bluff, 42 to 0. That's just the last two weeks. They didn't even have decals on their helmets when the season started. I was thinking about this the other day actually, and it must be strange to be on a college football team its first year of re-existence. There are no upperclassmen, unless they are transfers or walk-ons. It's a fucking brutal mish-mash of characters, because recruiting can't be that great either. "Hey, you wanna play on a school that never had a team before. You could probably start." You're only gonna get the lowest of self-esteem high school kids, and a team full of low self-esteemers doesn't make for good "Win one for the Gipper" fodder.
#2: Indiana State University Sycamores
(0-8, 41.875 avg. defeat) - A football sub-continental divider team in the Missouri Valley Conference that fucking sucks. Last week, they lost their homecoming game to South Dakota State, 49 to 9; and this week they stroll into Fargo, North Dakota (which is wonderful this time of year), to get crushed by #24 I-AA team North Dakota State in the 35th annual Harvest Bowl. They could really use a football-version of Larry Bird right about now to show up, probably kicked off an SEC team for larceny, and save their program from further shame.
#3: Southwestern College Moundbuilders
(0-7, 32.571 avg. defeat) - Cellar dwelling members of the NAIA's Kansas Collegiate Athletic Conference, Southwestern, who used to be the best team in the conference in the late '90s. Then, their coach Monty Lewis bolted to coach conference rival Friends College, who is now the cream of the league. Southwestern is so bad that they lost last weekend to a team that was previously 2-6 (East Central), and that team's coach STILL got fired this week, after winning his school's homecoming game. Good news around campus as though as the Moundbuilders basketball team is a preseason favorite in the NAIA coach's poll.
#4: Tabor College Blue Jays
(0-7, 32.143 avg. defeat) - Another member of the NAIA's Kansas CAC, which means they meet... THIS SATURDAY! WINFIELD, KANSAS, MOTHERFUCKERS! If you live within a hundred miles and don't go out of your way to see this classic showdown, then you are a suck ass and probably deserve to live in the middle of fucking nowhere.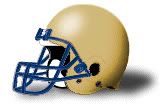 #5: Principia University Panthers
(0-8, 31.875 avg. defeat) - I try to look this shit up to have something useful to say, but it's hard to care about a Division II team in something called the St. Louis Intercollegiate Athletic Conference.
#6: Cheyney Wolves
(0-9, 34.111 avg. defeat) - Division II Pennsylvania State Athletic Conference bottom feeders have lost fifteen straight games, this year's batch of nine under new head coach Jeff Braxton. That's a tough job right there, to make an obscure college's perennially shitty football team not be so shitty. I'd like to see how like an Urban Meyer or Nick Saban would do in a situation like that. In fact, that'd be a good reality TV show, like Nick Saban taking over some shitty historically-black college to try and make it good. I wouldn't watch it, because I don't watch crap like that. But still, I'd bet there's mad dumbasses out there who'd watch that. I mean fuck, sports radio is an entire industry, which means ignorant ass barely executed sports-related things must be profitable as fuck.
#7: North Texas University Mean Green
(0-8, 33.000 avg. defeat) - Okay, they are the lowest member of the lowly IA Sun Belt Conference, and have not won a game all year long. But on top of that, they had 15 players fail drug tests recently when the coach, Todd Dodge, decided to test the entire team for "recreational drugs". But at the same time, it seems like a cop-out. I mean, I bet you could test any college football team for weed all of a sudden, and at least that many players would fail the test. Seems like a ploy to pretend you are cleaning up a shitty football program, to keep your job another year or two. Everybody knows that high level football players pretty much just smoke weed and play Madden when they are not actually having to get ready to play football.
#8: Lock Haven University Bald Eagles
(0-9, 31.444 avg. defeat) - Another member of the Pennsylvania State Athletic Conference in the NCAA's Division II, which you would think would mean a showdown with Cheyney for next-to-last. Except the PSAC has two divisions, so they don't play this year, which hopefully they will both suck again next year and have a pair of two year losing streaks to take into battle with each other in Bumfuck, PA.
#9: West Georgia University Wolves
(0-8, 29.875 avg. defeat) - The mighty Wolves of Carrollton, GA, member's of Division II Gulf South Conference, have probably already lost again this week, being they played tonight against the Valdosta State Blazers, who are a Division II powerhouse. Last week, West Georgia was crushed by Arkansas Tech, so I would imagine a short week against an even better team was pretty ugly.
#10: Concord University Mountain Lions
(0-9, 29.111 avg. defeat) - The shame of the West Virginia Intercollegiate Athletic Conference ranks near the bottom of NCAA Division II in defense. I would imagine rural West Virginia Division II football is some good shit, what with there not being that many black people in the state, plus willing to go play somewhere like Athens or Buckhannon or Fairmont, West Virginia. Probably just a bunch of big, mean redneck preps pretending they are athletes. I guess there's not much pretending going on when you're 0-9 though.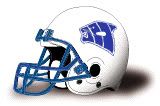 #11: Culver-Stockton College Wildcats
(0-8, 28.000 avg. defeat) - Heart of America Athletic Conference (NAIA) bottom-rungers have come close on a couple of games, but yet to crack that goose egg in the win column. I have top secret dork knowledge about this blog as well, and I know a couple of random motherfuckers have ended up here by googling "Culver-Stockton football", so hopefully one of them will tell us all what the fuck is wrong with this Wildcats team.
#12: Maranatha Baptist Bible College Crusaders
(0-7, 26.714 avg. defeat) - I am a little creeped out by a baptist college in Wisconsin, even if it is is small potatoes Division III level school. I assumed baptist schools were the domain of the south, where black kids too not-book smart to play regular college footbal went to play and run for like 300 yards a game. But Wisconsin? That shatters all my happy stereotypes about small-time baptist college football. Although I guess them not having won a game at all reinforces my alternate stereotype, so I can sleep easy tonight knowing my world has not been challenged at all.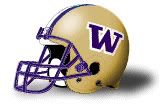 #13: University of Washington Huskies
(0-7, 23.429 avg. defeat) - The worst major conference team in NCAA football, and I feel bad for Tyrone Willingham, who was on top of the world when he led Stanford to success. Then Notre Dame got all black coach-happy, only to get impatient with him and kick him to the curb. He lands in Washington, and things have come up shit ever since. The Pac-10 really kinda sucks this year, although I always consider Oregon to be good since they have the best uniforms in all of sports. I know it's common sports dork thinking to pretend they are ugly, but they ain't. Not even a little. They got like secret flames on their glow-in-the-dark helmets this year and shit.
#14: McMurry University
(0-8, 22.250 avg. defeat) - They almost beat Texas Lutheran last week in their homecoming game, but came up short. McMurry's team doesn't even have a nickname. Earlier this month, when they played Mary Hardin-Baylor University, they got 27 yards of offense, total, for the entire game. That fucking sucks, and is probably a good piece of nothing minutiae to wrap up this list with.