The final cycle of eight teams for the regular season will be teams still fighting for a playoff spot (click the NFL 2009 tag below for previous weeks about the hopeless, the best, and those playing out their season), and then I will take the last week of the regular season off in waxing inefficiently about the professional football like I know something somebody else don't know. Nonetheless, here are the last eight teams left, all of whom hold onto to various levels of hope for postseason dreams to have a chance to be fulfilled, especially with a number of wild card teams having one the Super Bowl, or at least gone, in recent years.
#1: DALLAS COWBOYS
(9-5, 4th overall) - Coach Ralph Wiggum led this team away from their standard December swoon to give New Orleans their first loss ever this year last weekend, and everybody is all up on the Dallas finally turned it around bandwagon. But come on, let's be serious, there's plenty of sway to a swoon, and one win does not turn around this sinking ship. Even if they stumble their way into the playoffs, they haven't won a playoff game in way over a decade. And even though they could still steal the NFC East divisional title away from the Eagles the last weekend of the year at home, I find it hard to believe this Dallas team, as inconsistent as they've been this year and in many previous winters, will beat the best team in the NFC and then two hated division rivals, three games in a row. Which means that if they make the playoffs, they will most likely go on the road to either Arizona, Philadelphia, or Minnesota. I can't really see Tony Romo stepping his game up on the road in the postseason to handle the veteran presence of Kurt Warner, Donovan McNabb, or Brett Favre, especially when my last memory of him in the playoffs was him fucking up holding the ball for field goals and turning it over like Jay Cutler.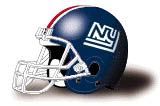 #2: NEW YORK GIANTS
(8-6, 10th overall) - The Giants need help, either to gain a game on the Cowboys or Packers. They hold the tiebreaker over the Cowboys, and I'm not sure about the Packers, but they are not in the driver's seat of their own playoff destiny. I can tell you this much... I never thought I could be annoyed and hate another Giants QB as much as Phil Simms, but I think Eli Manning might have passed him. I got to thinking the other day while riding around in my truck with no radio before I thought to replace the amp in the back of the receiver about what a bitch Eli Manning was, getting drafted by the Chargers but refusing to play for them and wanting to be traded to the Giants. What kind of bitch shit is that, having never played in the NFL? John Elway did the same thing, refusing to play for the Colts back in the day, and forcing a deal to Denver. Now I am not looking to enslave football players to whatever team drafts them until they are concussed into uselessness or all their ligaments get torn to shreds, but to pull some bullshit like that, pure trifling. And that's the team leader right there. Everyone else takes their cue from that type of guy. I hope they lose their whole team to the swine flu.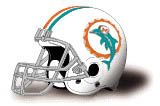 #3: MIAMI DOLPHINS
(7-7, 11th overall) - The Dolphins need help, but after the Ravens and Broncos, who are a game ahead of like 7 other teams, I have no idea how much help they need. Their final two games are at home, but against the always unpredictable Houston Texans and the fellow wild card stalker Pittsburgh Steelers. The only home games the Dolphins have lost this year is to the cream of the NFL - the Colts and Saints, and both games were competitive. But can you trust the Chad Henne era to get it done? I don't know, but somebody's gotta make the playoffs, and it'll probably be by default, and I'd love for Ricky Williams to be able to play on a grand stage again. That dude's the best. When I am playing Madden in franchise mode, I'm always looking for him to show up as a possible coaching candidate, but he never does. Madden probably be prejudiced against new age religions, with his old cantankerous corny ass.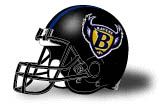 #4: BALTIMORE RAVENS
(8-6, 12th overall) - The Ravens control their destiny, but with games at arch-nemesis Pittsburgh and the black enigma known as the Raiders, it is hard to say if they can get it done. How do you get a pair of road games at the end of the year like that? And with a wild card berth in the playoffs their only hope, there will most likely be no more games in Baltimore this year, so the good folks of Charm City will have to watch the rest of the year play out on the television. Joe Flacco makes me uneasy though. The Ravens defense is not as impervious as it used to be, and sometimes Flacco gets all non-franchisey looking. But between the opposite side of the ball elderly influences of Ray Lewis and Derrick Mason, mayhaps the Ravens can be held together into the playoffs to enjoy a flight to either Cincinnati or New England. Oh man, a Ravens at the Bengals wild card round playoff game would be about intense. I have grown up an NFC East fan, but it's hard not to love the utter hatred felt between AFC North teams and so readily displayed on and off the field.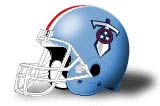 #5: TENNESSEE TITANS
(7-7, 13th overall) - If the Titans can upset the Chargers this weekend at home and then beat the Seahawks on the road, and somehow back door their way into the playoffs after starting at 0-6, you'd have to give Vince Young Comeback Player of the Century award. They looked like the worst team possible, as bad as Cleveland, Detroit, and St. Louis, at one point this season, and here they are now, actually staking a shot at the playoffs, while those other three teams are jostling for draft position and hoping a new President/GM/Coach/Quarterback will solve all their problems. And you gotta give it to Jeff Fisher too, as much as he hates stupid Wonderlic failing Vince Young, he's riding that dude as far as he can right now, and probably bought himself an extra year in Tennessee, as there were actually rumblings of letting Fisher go earlier this year. Lost in all this blurbage I be rambling on about too is that Chris Johnson is suddenly what Ladainian Tomlinson used to be considered.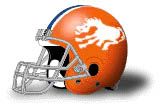 #6: DENVER BRONCOS
(8-6, 15th overall) - Denver goes to Philadelphia, which seems like a hard win, and then hosts Kansas City, which you'd think would be an easy W, but they also just lost to a Jamarcus Russell led Oakland Raiders team at home last weekend. Much like the Tennessee Titans 0-6 start has led to a miraculous comeback that might end up in the playoffs, the Broncos 6-0 jump out the gate looks like it could crumble into another missed opportunity for this franchise which always struggles whenever a horseface named Elway ain't QBing them. I think the problem is they don't wear those awesome brown and yellow throwbacks enough. They should've just abandoned their Eurofag soccer uniforms for the yellow and brown throwbacks as soon as they went 6-0, and rode it out as long as it'd take them. I know the NFL has stupid rules about all that, and actually I was just thinking about how stupid the throwbacks are gonna look years from now when people are watching retro highlights of this year and like Tom Brady is wearing a 1982 uniform or the Broncos are wearing some weird ass vomit colors. Nonetheless, I like ugly clothes, because fresh threads take away from my naturally rugged good looks.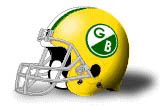 #7: GREEN BAY PACKERS
(9-5, 16th overall) - Aaron Rodgers has proved himself, and somehow the Packers defense, stocked heavy with young bucks, seems like it might be about to turn a corner and become a stifling ass entity, especially with Clay Matthews suddenly playing like a cracked out beast. I don't know, I could see the Packers causing some damage to the end the season and maybe upsetting some division champion's playoff dreams this January.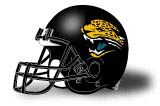 #8: JACKSONVILLE JAGUARS
(7-7, 21st overall) - The Jags loss to the Colts probably played them out of the playoffs, with a road game against New England next on the agenda, but one can never tell what that wacky Jack Del Rio will get out of his hodgepodge collection of nobodies and never-wills. Although Maurice Jones-Drew has become a fucking force and a half. If he played in an actual NFL city somewhere, his jersey would be in all the youtube rap videos.